The storage of heavy and oversized goods always requires a solid and thoughtful logistics service. Inefficient use of storage space for these types of heavy and oversized goods will affect the speed of meeting production progress as well as customer needs, leading to handling extremely complicated consequences. Understanding the problems that businesses are facing, Autotech offers 4 Kardex Remstar smart warehouse solutions that are ideal for these special requirements.
Kardex Remstar provides smart warehouse solutions for heavy goods
With automated storage and retrieval systems (ASRS) from Kardex Remstar, heavy duty items can be handled ergonomically and in a smaller footprint. Whether businesses need to store items that are oversized in width (such as metal sheets, wooden panels, …) or have extremely heavy weight, Kardex Remstar offers various smart warehouse solutions to manage this wide variety of inventory.
1. The TowerMat vertical lift system
The storage of long goods, metal sheets, tools, pallets, or mesh cages caused extremely complex handling issues and led to higher long-term costs. To store goods of this extremely long dimensions and heavy goods require particularly well thought-out storage logistics. Therefore, the appearance of the TowerMat vertical lift system offered by Kardex Remstar is a dynamic and flexible solution.
A TowerMat operates similarly to a Kardex Remstar Vertical Lift Module. The TowerMat utilizes a stacker crane which transports long goods to an ergonomically positioned workstation. This system can be designed with one or two storage towers for maximum capacity. The TowerMat has flexibility for many different storage mediums from long goods to pallets and heavy tools.
With the ability to efficiently store any material weighing up to 5,000 kg per carrier, the TowerMat vertical lift system from Kardex Remstar is the ideal solution for companies that want to store oversized and extra-heavy goods efficiently, safely and compactly.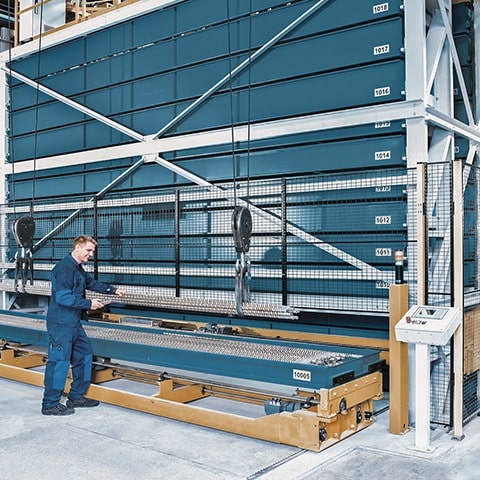 2. The InterMat vertical carousel system
Kardex Remstar's InterMat Storage System is a Vertical Carousel Module for round storage with unique requirements, for example tires or cable reels.
For tires: The InterMat carousel is excellent for high-dense storage because it makes full use of the available room height and depth. Tire and car manufacturers benefit from fast access to smaller car tires, large aircraft tires, and heavy rims. This optimized material flow leads to a long-term increase in overall productivity.

For cable reels: It is critical to safely store cable reels and other heavy round items so they do not take up too much space and are easily accessible. InterMat is a carousel designed for this purpose and fits in pits, outdoor areas, or as a T-bridge paternoster. It is extremely user friendly and safe. A loading trolley seamlessly stores and retrieves goods. Sectional roller shutters offer protection from unauthorized access or serve as sluice gates.
Operating as a traditional Vertical Carousel Module, the InterMat supports storage of up to 4,000 kg per carrier. Delivering stored items, directly to an operator at an ergonomic height and reducing storage space of these round and heavy goods.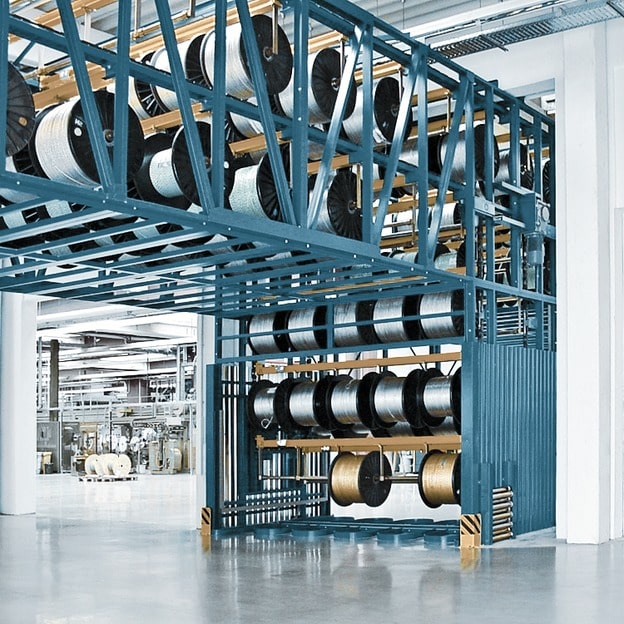 In addition, the InterMat allows for flexible integration into your existing facility. Taking advantage of previously wasted overhead space, the Intermat can be installed as a bridge carousel above transit routes or in awkward corners to further increase efficiencies.
3. Vertical Lift Module Kardex Shuttle 1000
With a tray width of 4,050 mm, the Kardex Shuttle 1000 has the highest load capacity in the Kardex Remstar family of Vertical Lift smart warehouses, handling up to 1,000kg per tray. Achieving new load-carrying capacity standards, it's ideal for storing medium-heavy to heavy parts. Using a forklift, stack and store Euro pallets and mesh boxes in specially designed trays. This saves space and makes it possible to find goods faster, helping to lower costs, boost productivity and increase ergonomics.
Further, to improve ergonomic handling, the Kardex Shuttle 1000 can be equipped with a dedicated crane to lift these heavy items and keep employees safe from injury.
4. Vertical Carousel Module Kardex Megamat 650
With the same operating principle as the Ferris wheel, the movement of the Kardex Remstar Megamat 650 smart warehouse is powered by a motor, which sends the carriers in a vertical loop around a track in both forward and reverse directions – similar to a Ferris wheel. Goods are stored or retrieved through an ergonomically positioned access opening with a work counter.
Furthermore, designed with a width of 1,975 to 4,275 mm, a height of 2,360 to 10,010 mm and a depth of up to 1,711 mm, the Kardex Remstar Megamat 650 smart warehouse is suitable for storing heavy items with high picking frequency and has a maximum load capacity of up to 650 kg per carrier.
The Kardex Remstar Megamat 650 works well in a variety of different areas. For instance, it integrates into the production process in several ways – either as an interim storage solution for semi-finished products or as a buffer storage in between production steps.
If your business specializes in storing heavy items that are similar in height and the dimensions do not change often, the Kardex Remstar Megamat 650 smart warehouse solution is an ideal solution to maximize storage density.
Kardex Remstar Smart Warehouse: Which is the right heavy goods management technology for your business?
Management and storage of heavy goods requires businesses to equip a solid logistics system with a special structure.. Due to their weight and size, these items often require special handling. Heavy inventory management can become an ergonomic nightmare putting workers at risk of injury. This large sized inventory takes up a lot of space leading to poor space utilization.
Therefore, based on the size and weight of these storage items, as well as the floor space available, businesses will base on determining the Kardex Remstar smart warehouse solution which would best suit their business. In addition, there are several options and enhancements for some of these units to provide ergonomic handling, keeping your employees and product safe, thereby solidifying decision-making: Which is the right smart warehouse management solution for businesses?
Kardex Remstar Megamat 650
Kardex Remstar Shuttle 1000
The TowerMat vertical lift system
The InterMat vertical carousel system

Weight capacity

Up to 650kg/carrier

Up to

1,000 kg/tray

Up to 5,000 kg/carrier

Up to 4,000 kg/carrier

Heavy tools

x

x

x

Heavy tools

x

x

Fixtures

x

Pallets

x

x

Long goods (pipes, steel bars, etc.)

x

Round items

(tires, cable reels)

x

Options

Controlled environments: clean, dry, temperature

– Crane

– Custom tray for pallet storage

– Manual or automatic extractor tray (1,000kg)

Single tower or double tower

Bridge installation
Furthermore, choosing the right smart warehouse solution for your business needs will help you maximize the benefits of automating heavier workloads including: recovering wasted floor space by up to 85%, increasing productivity by 2/3, increased pick accuracy up to 99.9%, increased inventory control and improved ergonomics. Heavy duty items require special handling and each of these solutions can be adapted to meet the needs of each business.
Autotech Machinery JSC. - Official distributor of the world's leading Kardex Remstar smart warehouse system
Autotech Machinery JSC. is a leading industrial machine manufacturing company in Vietnam, we are building a prestigious brand not only in the field of automation but also with our Partners – Customers.
After 9 years of construction and development, we always strive to innovate, live fully with passion, to bring customers satisfaction not only because of high quality products but also in the dedication, enthusiasm in customer service and professional working style.
Not only that, in order to further increase customer satisfaction, Autotech Machinery has been and continues to expand its product portfolio to bring the best factory automation solutions to meet all the needs of business customers. That is why Autotech decided to cooperate and be the world's leading supplier of Kardex Remstar smart warehouse systems. A leading smart warehouse system in the world will be a great choice for businesses, especially those in industrial manufacturing.
Read more about Kardex Remstar products distributed by Autotech in Vietnam: https://www.auto-tech.vn/home-new/en/autotech-distributor-kardex-remstar/
Speak to Autotech Experts
Contact Autotech experts to get professional advice for your factory & business.

Headquarters: No. 11-15, Street 17, Industry – Urban – Service Complex VSIP Bac Ninh, Dai Dong Commune, Tien Du District, Bac Ninh Province, 16000 Vietnam

Ho Chi Minh City Branch: 49 Street No. 12, KP5 – Hiep Binh Chanh Ward – Thu Duc City – Ho Chi Minh City

Hotline: (+84) 903 232 625

Email:

info@auto-tech.vn
Find out more about other products/services here: http://www.auto-tech.vn/home-new/en/san-pham/
Connect with us: