Digital transformation in Industrial 4.0 era is no longer an option but has become an inevitable development trend. When realizing that the traditional management model is no longer suitable and effective, Autotech's leaders quickly grasped the trend and "piloted" the Autotech boat oriented towards the digital transformation journey. So in that "Innovation" and "Digitalization" journey of Autotech, what are the "keys of success"?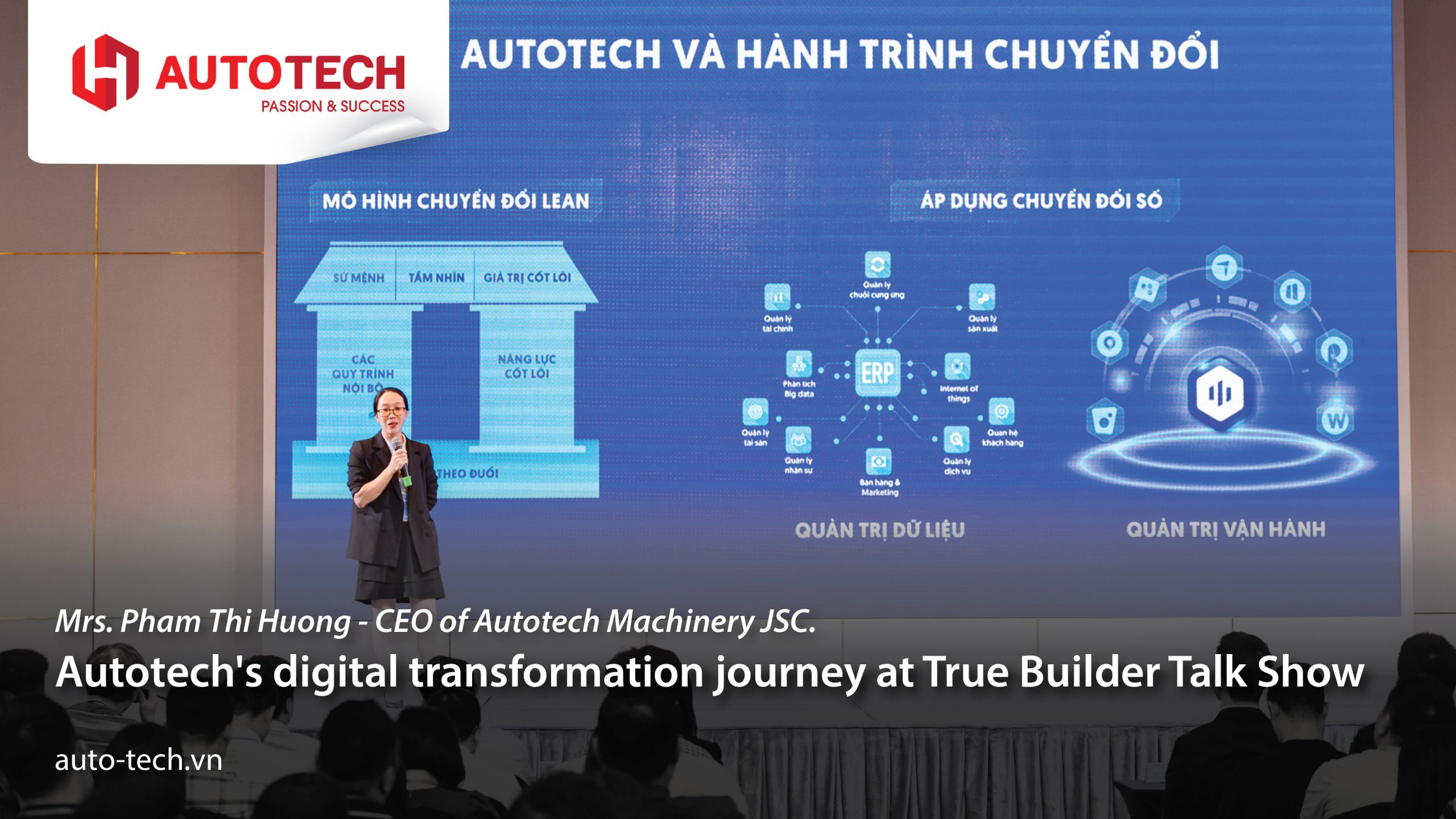 Autotech Machinery JSC and digital transformation

In Industry 4.0, businesses need to promptly grasp trends to quickly integrate with the global economy, especially digital transformation and actively "changing" technology in production and business activities. But among countless digital transformation solutions, many businesses are still looking for a suitable and effective solution for their business. Digital transformation is considered as a makeover of businesses, so there are many difficulties in the digitization process.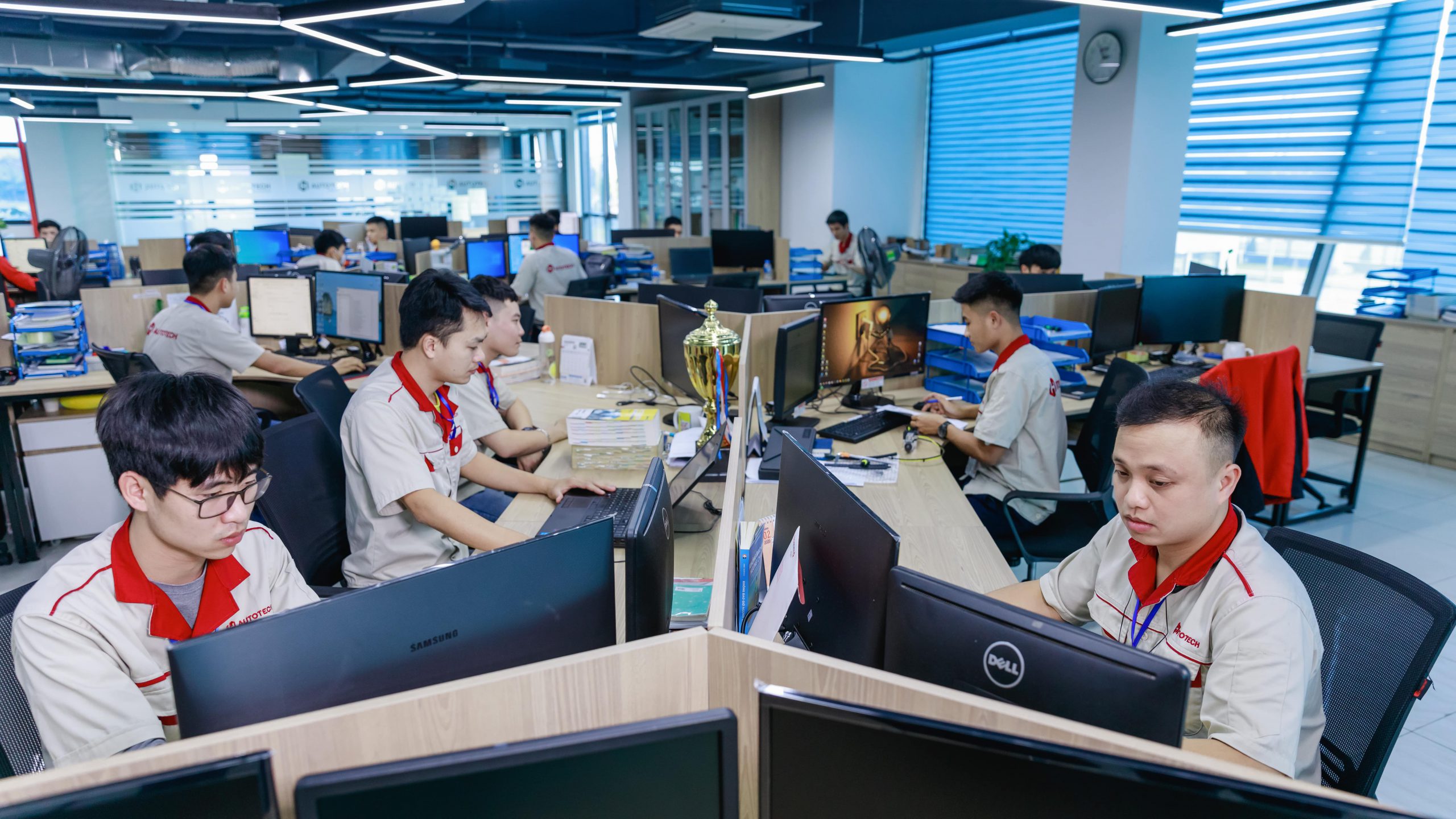 Autotech Machinery JSC too, is a Vietnamese enterprise that always carries with it the desire to affirm and conquer itself, the desire to contribute its responsibility to the prosperous development of the country, moreover, facing the profound effects of the "wave" of globalization as well as the "storm" of digital transformation, Autotech realizes that building a visual factory is extremely necessary, a problem that is being posed to managers and is looking for a suitable answer.
So what will be the "answer" that Autotech Machinery JSC is looking for?
Autotech Machinery JSC deploys digital transformation in corporate management

Invited to attend as a special guest, at True Builders Talk Show with the topic "Innovation" organized by Base.vn on November 15th 2022, Mrs. Pham Thi Huong – Founder & CEO of Autotech Vietnam shared about the reason for coming to Base as well as the journey of digital transformation at Autotech Machinery JSC since the beginning of the idea, planning, implementation until it was available. Impressive results with other guests including Mr. Nguyen Le Hoang – Head of Information Technology Department – ​​Pacific Group and representatives from Base.vn.
During that talk show, Mrs. Pham Thi Huong shared "Facing the impact of external and macro factors, Autotech Vietnam has seen the inevitable requirement in optimizing operations, improving processes to improve efficiency, increase benefits for customers and resonate with the power of the chain ecosystem. Therefore, visualizing the process system from production to management and support is a problem that the Board of Directors needs to solve to increase competitiveness and position itself in the market."
Besides, the CEO of Autotech also shared more about the difficulties encountered by the old management model before coming to the decision to deploy the smart management model:
The old way of operating without real-time leads to delay in decision making

Manual management, lack of system makes it difficult to control and optimize productivity

Many hidden processes make information less transparent and intuitive, making it difficult to optimize operations

Fragmented data leads to lack of availability, thereby failing to analyze the cost optimization problem
Therefore, the CEO of Autotech decided to transform the smart corporate management model to combine with the ERP data management system to optimize and streamline the entire business operation process better, and at the same time create a launching pad for the strong development of the business in the future.
Autotech Machinery JSC deploys smart operational management model with Base
Always striving to research and constantly learn to pursue that digital transformation journey at her own business, Mrs. Pham Thi Huong confirmed "Although 100% of working processes and management are digitized, but human thinking does not improve, digitization does not make much sense. Even for those who do not want to improve, digital transformation and technology are still considered a burden."
Therefore, in the process of implementing business digitization as well as applying a new operational management model, for Autotech, people are the decisive factor for success, in which "Leaders must be passionate about innovation in order to lead change. If just "like" is not enough, you have to be really hungry to be persistent enough to go to the end" and "Digitalization is just a tool for managers and personnel to directly see their own work, results and capacity to re-train themselves".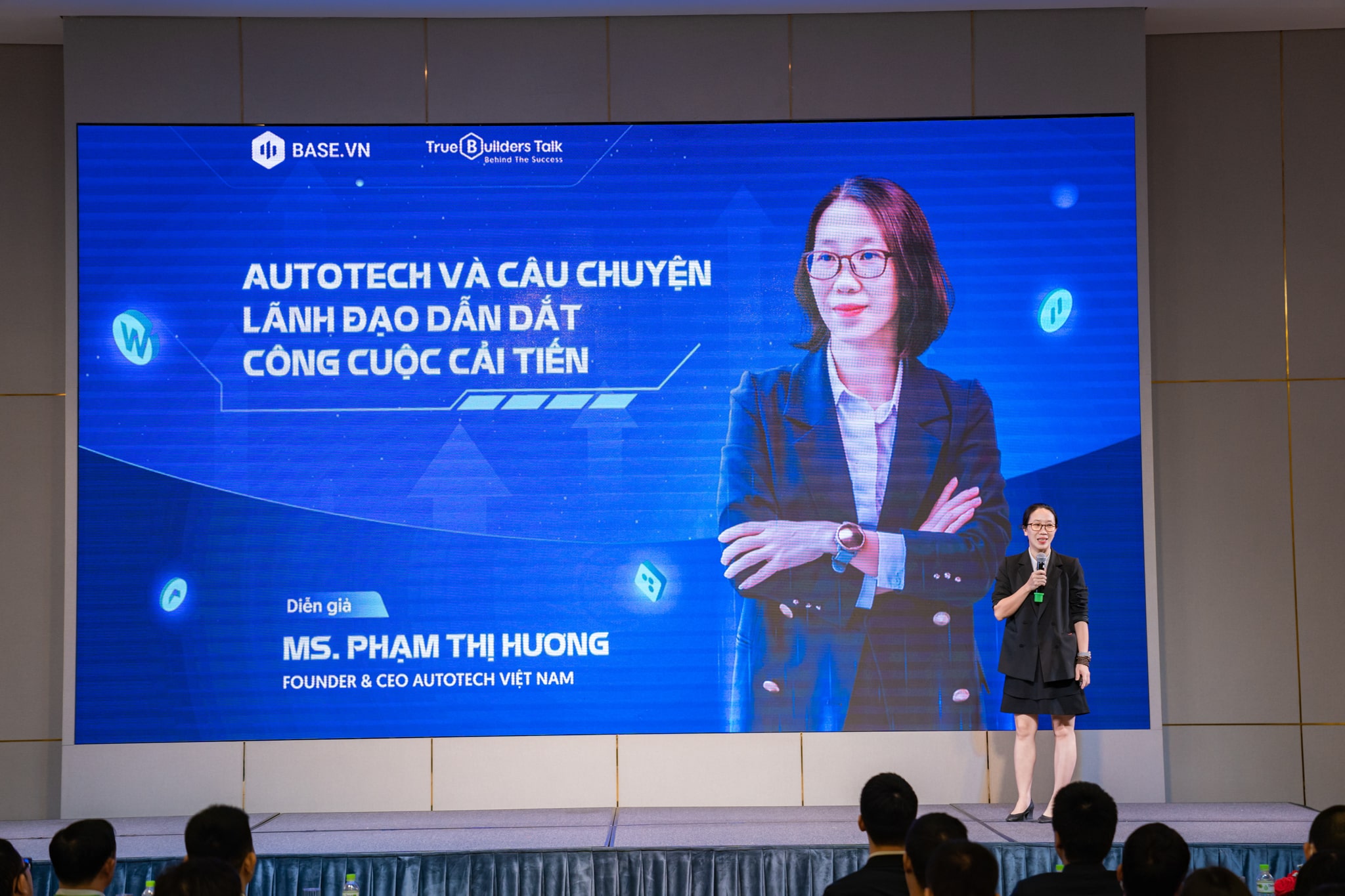 And every journey is full of difficulties, so is implementing a new operational management model with Base, but as a person who always aspires to innovation and is not afraid of difficulties, Mrs. Pham Thi Huong has made great efforts to research, establish and divide clear workflows for each department on a digital platform to optimize managemrnt as well as have a more intuitive view of plant operation.
On the way to accompany the Base platform, the representative of Autotech Vietnam also affirmed that digital transformation is "not a technology" but "innovation in the way leaders think and all direct users" and "the leader must be a pioneer, have practical and comprehensive experience to become a leader and keep pace throughout the journey." With that consistent view, Mrs. Huong has been gradually renewing her thinking as well as accompanying departments to solve difficulties encountered in the digital transformation journey.
The reality has proven that, with the deployment scale including all Office staff and Production department managers, in only 3 weeks of deploying this new operation management model. Autotech has recorded impressive initial results: achieved achievements such as digitizing the entire core process; 70% of personnel have worked entirely on the software; 80% of procedures and papers have been reduced; all departments have clearly understood their roles, responsibilities, and scope of handling. And after more than 1 year of accompanying and pursuing the journey of digital transformation with Base, Autotech has become more confident and ready to develop the business to become strong in the process of factory digitization.
Autotech Machinery JSC deploys Lean Manufacturing model

Never satisfied with the present, Autotech always strives to fulfill their aspirations, conquer new heights, therefore, not only do not stop deploying smart management with the Base platform but Autotech Machinery JSC also builds and simultaneously implements the Lean Manufacturing model.
Experiencing the first steps on the road to building a lean management system, Autotech Vietnam laid the first bricks to build the first design for its own Lean House – where the aspirations to reach the heights of technology, new automation techniques are conquered and imprinted with Autotech!
With the commitment and consensus from the Board of Directors and all staff, the two operational and lean management models combined with the data management system being deployed in parallel have mutually supported each other, helping strongly promote the digital transformation process at Autotech, bringing many positive results in the process of business development, contributing to affirming the position of Vietnamese enterprises in the domestic and regional markets.
Autotech Machinery JSC - Vietnam's leading industrial machine designing & manufacturing company

Autotech Machine JSC is a leading enterprise in Vietnam in the field of designing and manufacturing of industrial machines as well as factory automation services including providing industrial machine building products, production line improvement and upgrade solution packages, automation solutions (PLC services, industrial robots, vision machines, etc.).
With 2 offices in Bac Ninh and Ho Chi Minh City, we have been serving more than 100 large and small business customers across Vietnam such as Samsung, Cannon, Vinfast, Mitsubishi, etc. and have successfully implemented more than 3000 industrial automation projects, many of which are related to industrial robot operating solutions in different fields.
Coming to Autotech, we will help our customers improve flexibility, efficiency, safety and reliability, towards building the smart factory of the future.
Speak to Autotech Experts
Contact Autotech experts to get professional advice for your factory & business.

Headquarters: No. 11-15, Street 17, Industry – Urban – Service Complex VSIP Bac Ninh, Dai Dong Commune, Tien Du District, Bac Ninh Province, Vietnam

Ho Chi Minh City Branch: 49 Street No. 12, KP5 – Hiep Binh Chanh Ward – Thu Duc City – Ho Chi Minh City

Hotline: (+84) 903 232 625

Email:

info@auto-tech.vn
Find out more about other products/services here: http://www.auto-tech.vn/home-new/en/san-pham/
Connect with us: